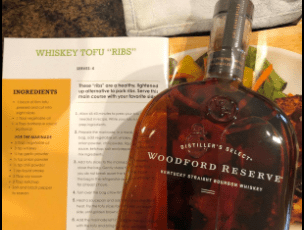 Of course, you start with some really amazing Woodford Reserve Whiskey!
Picking the RIGHT Whiskey is the key here! Here at 5 Star North, we prefer Woodford Reserve Bourbon Whiskey! Next, here are the other ingredients you need:
Ingredients:
1 block of firm tofu pressed with the Healthy Express Tofu Press and cut into eight slices
1 Tbsp vegetable oil
4 Tsp barbeque sauce
FOR THE MARINADE:
3 Tbsp vegetable oil
3 tsp Woodford Reserve Whiskey
½ tsp garlic powder
½ tsp onion powder
½ tsp chili powder
1 tsp liquid smoke
2 Tbsp soy sauce
2 Tbsp ketchup
Salt and black pepper to tase
Allow 45 minutes to press your tofu before needed in the recipe. While your tofu is being pressed, prep ingredients.
Prepare the marinade. In a medium-size zip-lock bag, add vegetable oil, whiskey, garlic powder, onion powder, chili powder, liquid smoke, soy sauce, ketchup, salt, and pepper. Close bag and mix ingredients.
Add tofu slices to the marinade and securely close the bag. Gently shake the bag ensuring you do not break apart the tofu slices. Place the bag in the refrigerator and let it marinate for at least 2 hours.
Heat a saucepan and add 1 Tbsp oil on medium heat. Fry the tofu slices for 3-4 minutes on each side, until golden brown and a little crispy.
Add the marinade left in the bag to the saucepan with the tofu and bring to a boil. Lower heat and simmer without a cover for 13-15 minutes. Baste the tofu with marinade while cooking.
Serve with barbeque sauce if desired and your favorite side.